Welcome to Organix 14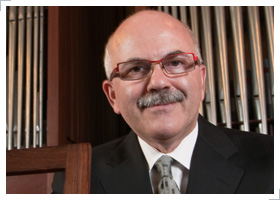 This is Toronto's ninth annual organ festival, a series of concerts featuring the thrilling sounds of the magnificent pipe organ, "The King of Instruments." Each spring ORGANIX presents the finest of entertainment from emerging and well-experienced international artists. This year, ORGANIX has created a series of seven Select and very special concerts that start in Spring and end in November 2014.
ORGANIX offers solo and collaborative performances. The solo concerts this year include Kerry Beaumont — Coventry Cathedral, Witold Zalewski — Krakow Cathedral, James David Christie — Holy Cross Basilica and Oberlin Conservatory, Shawn Potter — First Baptist Church (Ottawa) and Rhonda Sider Edgington — Hope Church (Michigan). The ensemble performance is with Austrian organist, Elizabeth Ullmann — Mozarteum (Salzburg) and will include ORGANIX alumnus, Cellist, Samuel Bisson with the ORGANIX Festival String ensemble in the performance of four well crafted Mozart Church Sonatas. The seventh and final concert is still in the planning stages but will be a memorial Gala concert for the late Massimo Nosetti performed by friends Maxine Thévenot, Eugenio Fagiani and former student and protégé Omar Caputi.
Whether you wish to stay downtown, or attend concerts in the Kingway area of west Toronto, please make it a goal of yours to attend multiple concerts and get your tickets or passes early. Consider building your own Festival Pass with the concerts you wish to attend. A Pass will also make a great gift for a friend, teacher, student, family member, doctor or even clergy! On a business note, if you have an enterprise, then perhaps you might also consider placing an ad in the ORGANIX program book. In doing so, you help sustain the festival and show your support for its success.
On November 12, 2013 our dear friend Massimo Nosetti passed away as a result of Cancer. He was diagnosed just one month prior to his death. I find this to be a great loss and a tragedy that profoundly affects us all. He was a brilliant composer, organist and friend. Massimo was humble and an exceptionally kind person. He never allowed his gifts to get in the way of creating long lasting friendships. We will miss him and look for ways to honour his very special relationship with the festival that is dedicated to Massimo.
ORGANIX is a festival unlike any other. I look forward to welcoming you in person at each of the concerts. Enjoy ORGANIX 14 and please tell your friends about it too!
Musically yours,
Gordon D. Mansell
Executive Producer & Artistic Director