Welcome to Organix 17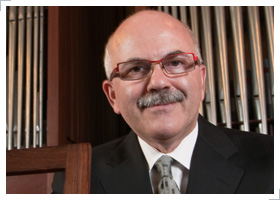 ORGANIX CONCERTS is Toronto's on-going organ festival, a series of concerts that features the thrilling sounds of the magnificent pipe organ, "The King of Instruments." Now in its twelfth season and approaching 150 concerts and events ORGANIX continues its collaboration with All Saints Kingsway in producing the Kingsway Organ Series. It is a free bi-weekly Wednesday 45 minute concert starting at 12:30 pm. This first part of 2017, ORGANIX CONCERTS has presented to enthusiastic audiences several collaborations that were very entertaining and musically enriching, including organ with... timpani, trumpet, cello and vocal.
On September 22, 7:30 pm, ORGANIX 17 in collaboration with Timothy Eaton Memorial Church, the Consulate General of the Republic of Italy through the Istituto Italiano di Cultura in Toronto and the Royal Canadian College of Organists will present Italian organist and musical sensation, Mario Ciferri. Maestro Ciferri is the Titular organist of the Cathedral of Porto SanGiorgio in Italy. Mr. Ciferri's gala performance will be on the newly restored and expanded five-manual Casavant organ at Toronto's Timothy Eaton Memorial Church. This will be a spectacular evening featuring one of Canada's finest instruments performed by one of Italy's finest. It will also be an evening when I will receive an award from a national committee of the Royal Canadian College of Organists. I will be honoured to receive an Award of Excellence for ORGANIX CONCERTS, a distinction given for significant contribution to the promotion and value of the organ and its music in Canada. This will be a night of grand proportions topped off with the usual reception after the concert. Great music, friends, wine and food. This is the life! Get your tickets early by scrolling down the home page and arrive at the concert date of September 22. Click on that date and then Concert Program. Voila! You get to see what Maestro will perform and immediately get your tickets.
On the morning of Saturday September 23, also at Timothy Eaton Memorial Church from 10:00 am – noon, Maestro Ciferri will conduct a Masterclass for organists and enthusiasts. All are welcome to attend this event, one that will be a very interesting and dynamic experience.
As the second half of ORGANIX 17 is upon us with concerts through July, none in August and then from September through to the end of December and I now planning 2018. We are in for thrilling times! Please check often for an updated announcement, either here on the website or on the facebook page. Please "like" ORGANIX on facebook so that you can get the most immediate information on upcoming events.
Thank you for your continuing support and interest in live organ music. I look forward to personally welcoming you at the next ORGANIX concert.
Musically yours,
Gordon D. Mansell
Executive Producer & Artistic Director