St. Michael's Choir School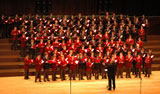 St. Michael's Choir School was founded in 1937 by Monsignor John E. Ronan, the foremost Catholic composer of English-speaking Canada in the last century. The school's mandate is to serve the musical liturgical requirements of St. Michael's Cathedral and the Archdiocese of Toronto, foster an excellent musical environment, and provide superior academic education to its students. In 1955, SMCS was accorded an affiliation with the Pontifical Institute of Sacred Music in Rome, one of only seven choir schools in the world to have this privilege, thus giving it the power to grant degrees in Sacred Music.



The total current enrolment of the school is 250 boys from grade 3 through 12. Each student participates in one of the school's four choirs: the two Senior Choirs (SATB) grades 7-12, the Junior Choir (SSAA) grades 5 and 6, and the Elementary Choir (SA) grades 3 and 4. In addition to a rigorous academic program, the boys are also required to learn to play the piano, and many boys typically choose organ, violin or guitar as secondary instruments.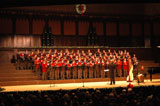 A regular duty for the choirboys is to sing at St. Michael's Cathedral at the weekend Masses, as well as at weddings, funerals and other cathedral services. The choir is also well-known for its soul-stirring rendition of Tenebrae each year on the Wednesday of Holy Week.
Recent concert highlights include the 2002 World Youth Day, where the choir sang on the main altar platform with the Pope and the Bishops of the world. That same year, the choirboys were invited to perform for Queen Elizabeth during Her Majesty's visit to Toronto. The choir has performed at many Canadian venues including Toronto's Hummingbird Centre, George Weston Recital Hall, Ford Centre for the Arts, and Roy Thomson Hall. Overseas, the choirboys have performed in Wales, England, Scotland, Ireland, Italy, Switzerland, Germany, and also Trinidad and Tobago. They performed at the Vatican in 1997, at the Brussels Millennium, and placed first at the International Choral Festival in Cork, Ireland. On Remembrance Day 2004, the choir sang in Britten's War Requiem with soloist Michael Schade, a graduate of St. Michael's Choir School.
In fact, every time you attend a Canadian opera, concert, or stage presentation, chances are there is an SMCS alumnus among the performers. Since its foundation in 1937, the school has produced many singers and musicians who have built a reputation both in Canada and abroad, including such well-known names as Michael Burgess, Robert Pomakov and the COC's Michael Colvin.
St. Michael's Choir School has been recording since the 1940s, presenting repertoire in a variety of styles, from Renaissance polyphony to 20th century Canadian music, in both sacred and secular genres. Eight albums have been produced, including the most recent "Christmas Garland," and approximately 40,000 have been sold over the years.
St. Michael's Choir School
Finale Concert - Choir & Organ
Friday, June 1, 2007
7:30 p.m
Tickets $25