Christopher Dawes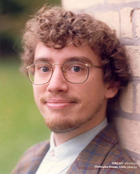 Christopher Dawes is a freelance church, choral and theatre musician, writer and consultant based as Lead Musician at the Church of St. George-the-Martyr in Toronto. He has given concerts in all of Canada's major cities, and has toured, and been recorded and broadcast in the U.S.A. and Europe. Mr. Dawes currently divides his time between his family, freelance performing and workshop-leading; performing, directing and composing in adjunct capacity to music and drama programs of the University of Toronto, and the Directorship of three institutions well-known in Canada's organ world: the production company Organ Alternatives, the Organ Concerts and Academy at Stratford Summer Music, and Canada's Summer Institute of Church Music in Whitby. From 1991 to 2003 he served Toronto's St. James' Cathedral first as organist and later as Director of Music.
Recently Mr. Dawes has toured with choirs in the U.S.A., Ireland, Hungary, Slovakia and Austria, been featured soloist in several of Roy Thomson Hall's popular "Choir and Organ" concerts, and served a third year as accompanist and continuo player to Hellmuth Rilling in the Toronto Bach Festival. He has just returned from touring his popular "Holy Song" concert program across western Canada, and appeared with saxophonist Daniel Rubinoff in Edmonton's "Sundays at 3" concert series, and continues as principal accompanist to the University of Toronto's MacMillan Singers, and co-principal accompanist to the Toronto Children's Chorus under its new Artistic Director Elise Bradley. He is known for a musicianship that freely crosses classical and popular styles and eras; for his imaginative, informed and approachable presentation of both the familiar and the obscure, and for his love of history, people, and all that is unusual and inspirational in music. Born in the United States and raised in Kingston, Ontario, Chris lives with his wife Marcia, and their sons Nathaniel and Simon, in Georgetown, 50km northwest of Toronto, where they expect to be joined by a fifth family member next week.
Christopher Dawes - organ
The Poet in Melody
Wednesday, May 7, 2008
6:00-6:45 p.m.
Tickets $7.50