Robert Divito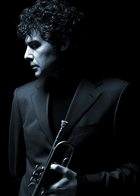 Robert DiVito holds a Bachelor of Music degree in Performance from the University of Toronto where his principal teachers were Stephen Chenette and Larry Weeks. In his graduating year he took First Prize in the International Trumpet Guild Orchestral Competition, the first Canadian ever to be accorded such an honour. Subsequently, he performed the Edward Gregson Trumpet Concerto at the Harmony Ridge Festival in Vermont, the summer home of the New York Philharmonic brass and, at the invitation of Gerard Schwartz, he performed with the Waterloo Festival Orchestra in New York.
Robert played in the Toronto production of The Phantom of the Opera and was a member of the Hannaford Band from 1987 to 2002. He has performed with a variety of chamber groups and orchestras, including the Toronto, Winnipeg, Thunder Bay, Hamilton and Kitchener-Waterloo Symphonies, the Canadian Opera Company, the National Ballet of Canada and the Esprit Orchestra.
In 2004, Robert travelled to New Orleans to perform at the 200th anniversary celebrations commemorating the Louisiana Purchase. He also recorded a complete selection of historic bugle and military trumpet calls for the City of Toronto, which are available to the public via an interactive display at Toronto's historic Fort York. He lives in Toronto with his wife, flutist Leslie Newman, and their four children Benjamin, Cecilia, Emma and Thomas.
Robert DiVito - organ
Brass & Pipes (Markham)
Friday, May 15, 2009
7:00 p.m
Tickets: $10
Brass & Pipes (Toronto)
Wednesday, May 20, 2009
6:00-6:45 p.m.
Tickets: $10
Brass & Pipes (Toronto)
Monday, May 25, 2009
12:15-1:00 p.m.
Free