Jacob Street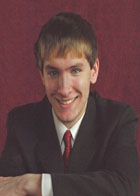 Jacob Street, of North Reading, Massachusetts, currently attends College of the Holy Cross in Worcester, where he studies with James David Christie and is the organ scholar of the class of 2010. He first studied piano and organ with John Skelton, his teacher of thirteen years. He performs at Holy Cross for Sunday Mass, as well as in venues throughout New England in solo recitals.
Mr. Street was the first-place winner of the High School division of the 2005 Albert Schweitzer Organ Festival/USA. As first-place winner of the 2010 RCYO AGO/Quimby Region I competition, Mr. Street will perform as a "Rising Star" at the national AGO convention in Washington, D.C. in 2010. In October 2010, Mr. Street was a finalist in the André Marchal International Organ Competition, and recipient of the Special Prize for the Interpretation of French Music, offered by Jacqueline Englert-Marchal for his performances of Franck and Guilmant. In 2008 Mr. Street made his debut performing with the Boston Symphony Orchestra in Tchaikovsky's Manfred Symphony, under the direction of Russian conductor Gennady Rozhdestvensky and BSO Assistant Conductor Julian Kuerti.
As a student recitalist, Mr. Street has performed in numerous international organ academies, including the Oberlin Academy for High School Organists (2005), the Bolzano Summer Music Academy (2006, 2007), the McGill Summer Organ Academy (2007, 2010), the Royal School of Church Music Boston course (2008), and the Tallinn International Organ Festival (2008). He has participated in masterclasses with Peter Planyavsky, Marco Facchin, Marie-Louise Langlais, Claudio Astronio, John Grew, Daniel Roth, Ross Wood, and Peter van Dijk (of Utrecht). As guest organist of the Boston College University Chorale under director John Finney, he has performed in tours of Ireland, Spain, Italy, and Germany.
James David Christie - organ & Jacob Street - organ
Sunday, May 23
3:00 p.m.
Free-will offering
Jacob Street - organ
Monday, May 2
12:15-1:00 p.m.
Free-will offering