ORGANIX 20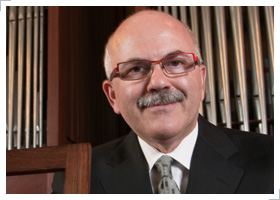 ORGANIX CONCERTS has been Toronto's on-going international organ festival series featuring the thrilling sounds of the magnificent pipe organ, "The King of Instruments." Unfortunately, The Corona Virus (COVID 19) has put an end to the 2020 season and will most likely change the manner of presentation for future concerts.
I have produced and presented over 210 concerts and events while hosting many international artists, including virtuosic talent from our own country of Canada, from Poland, Italy, Germany, United Kingdom, Hungary, United States and Austria. During these past 15 years, I have been grateful for the many people I have met as venue managers, church music directors, performers and concert enthusiasts. Happily, the annual year-long festival series has earned a stellar international reputation for exceptional production management and performances. In 2017, the Royal Canadian College of Organists honoured and awarded ORGANIX CONCERTS for its Excellence. It has been quite a wonderful journey but it appears to be time to downsize the ORGANIX schedule.
ORGANIX CONCERTS has been entirely managed and financed by yours truly with the occasional assistance from individuals and various Toronto based consulates, most notably those representing Italy and Poland. I am grateful to the Consul Generals and Directors for their kind support and enthusiasm for ORGANIX CONCERTS and the artists that have performed representing their country. I am also gratified in my special artistic relationship with the Canadian International Organ Competition (CIOC) and the performances of the young world-class organists who performed in Toronto after placing in the Montreal competition.
In the early days, Toronto Arts Council, Casavant and Royal Canadian College of Organists (Toronto Centre) were valued supporters of ORGANIX CONCERTS but sadly this did not continue much beyond the initial years. A sincere appreciation goes to The New Classical 96.3 for their willingness to interview the many international artists who came to town. These live interviews were extremely beneficial towards building awareness of upcoming ORGANIX concert presentations.
Finally, I am grateful to you as the faithful audience for your support. I hope to see you again, should I produce a one-off concert of an artist, whether Canadian or International. In the mean time, keep making those requests of organ music with your local classical radio or internet broadcasters. Keep supporting organ music in any way you can.
Keep well!
Musically yours,
Gordon D. Mansell
Executive Producer & Artistic Director
ORGANIX CONCERTS
Glionna Mansell Corporation