Simon Irving with Janice Beninger (Four Hands, Two Feet Duo)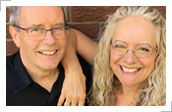 Simon Irving and Janice Beninger began their husband/wife organ and piano collaboration as Four Hands Two Feet in 2012. They perform in a variety of venues in and around their home region of Hamilton, Ontario. Styles range from Baroque to modern, including works composed specifically for organ and piano, as well as their own arrangements and adaptations.
In 2015 they produced their first CD together, titled Poem, containing pieces written especially for this combination, by four modern composers. Their second CD titled Just Baroque was released in August 2017 and features music composed between 1650 and 1750.
Visit www.fourhandstwofeet.ca for more information.
---
Simon Irving
Simon Irving has been an organist since age 13. From 1984 he was organist at Carlisle United Church, and in 1992 took early retirement from his IBM management position to become Director of Music at Church of Our Lady in Guelph, He served as National President of the RCCO from 1998 to 2000, having earned his FRCCO diploma in 1994.
Irving is the Founding Director of the Guelph Symphony Orchestra, which he led for 10 years, retiring in 2011. He is now Conductor Emeritus of the GSO, and Director of Music at St John the Evangelist Anglican Church in Hamilton.
Janice Beninger
Janice Beninger received her MMus from the University of Western Ontario where she studied piano with Ronald Turini and composition with Alan Heard. A frequent collaborator with singers and instrumentalists, Janice served as pianist/keyboard player for Symphony Hamilton and worked as Music Co-ordinator (organist and choir director) for Knox Preston and Knox Waterdown Presbyterian Churches.
She has directed numerous choirs, including the McMaster University Vocal Ensemble, Kaleidoscope Singers, and Hamilton Conservatory for the Arts Children's Choir. She is currently Music Director of both the Burlington Welsh Male Chorus and the Burlington Welsh Ladies Chorus and maintains an active piano/theory teaching studio in Dundas, Ontario.