The Dundas Trio featuring John Laing with Lara Housez and Fernando Lima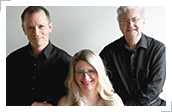 The Dundas Trio was formed in 2016 by three renowned musicians of the Valley Town: Lara Housez (soprano), Fernando Lima (countertenor), and John Laing (keyboard). Their concerts have been greeted with much enthusiasm, and they look forward to performing at Organix 19.
---
John Laing conductor, composer, organist, and pianist, was born in London, U.K. He began to play the piano and compose at a very young age, and then became a treble chorister in the choir of King's College, Cambridge under Sir David Willcocks. At the age of twenty, he became a Fellow of the Royal College of Organists. He returned to Cambridge to be an Organ Scholar of Corpus Christi College, where he obtained a Bachelor of Music Degree in Organ Performance and Musicology and a Master of Arts Degree. At the age of twenty-seven, he came to live in Canada.
Mr. Laing has had a distinguished career in several fields of music. An accomplished organist, harpsichordist, and pianist he has given many performances in North America and Europe. He has also conducted excellent choirs in Montreal, Ottawa, Oakville, Hamilton, and Toronto, including the nationally renowned John Laing Singers, which he founded, and conducted for three decades. As a church musician, his long and successful career has included the directorship of music at Cathedrals in Montreal and Hamilton, at St. Jude's Church, Oakville, where he was Founder and Director of the Celebration of the Arts concert series during its inaugural decade, and currently at The Church of the Ascension, Hamilton. During the past decade, John has devoted much time and energy to composition, and his works have been widely performed to warm appreciation and recorded on acclaimed CDs by top-class artists. In 2016 his composition Revival was commissioned by the Hamilton Philharmonic Orchestra for their contemporary music festival, and he has completed many more works which have been premiered since.
For his services to music and the community, Mr. Laing has received the "Above and Beyond" Award from the Oakville Arts Council, the Order of Niagara from the Anglican Church of Canada, Honorary Citizenship of Sarasota (Florida), the Musician of the Year Award from the City of Hamilton, Life Membership of the Hamilton Musician's Guild, the Freedom of the City of London, U.K., and the Queen's Diamond Jubilee Medal (Canada).
Lara Housez pursued musical history at Western University, where she received BMus and MA degrees, and musicology at the Eastman School of Music, where she completed her Ph.D. Throughout her education, Lara has studied voice and sung in such choirs as the Elora Singers, Arcady Singers, John Laing Singers, Ottawa Bach Choir, and Hamilton Scholar Cantor. She is featured on Laing's A Noel Tapestry (CD). In addition to her work as a singer, Lara teaches music history at McMaster University.
Fernando Lima was born in Argentina and moved to Spain at the age of ten. He completed his MA in performance at San Lorenzo del Escorial in Madrid and pursued doctoral studies at Trinity College of Music in London, where he also performed with Sir John Eliot Gardiner and the Monteverdi Choir. Fernando has toured internationally with several artists including English soprano crossover artist Sarah Brightman and has recorded an album, Pasion, with EMI Latin. Now living in Dundas, Fernando teaches voice and martial arts.