WELCOME TO ORGANIX 07
From May 5 to June 1, meet the pipe organ, the "King of Instruments". Our program includes solo recitals, organ & trumpet, a theatre organ concert at Casa Loma, Saint-SaŽnsí Carnival of the Animals arranged for piano & organ, and a Show and Tell where you will explore inside a large pipe organ, even play it if you like. Our final concert showcases two distinctive musical cultures, the anglophone choral tradition and francophone organ music. And donít forget our informal Wednesday series of 30 minute concerts starting at 6:00 p.m for only $5.00.
Musically yours,
William O'Meara and Gordon D. Mansell
Artistic Directors, ORGANIX 07
Listen to our radio ads!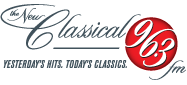 Featuring: